About Us – Alaska Wildfowl Adventures
This coming season will be Alaska Wildfowl Adventures 12th year in business! Over the years we have always worked at staying true to the reason we started the business, to share some of the most unique and adventurous duck hunting in North America with duck hunting enthusiasts around the world. We specialize in high quality hunts for trophy birds with a low guide to client ratio. You will experience one of the most beautiful places in Alaska on our Valdez sea duck hunts.
A lot has changed in the last 10 seasons, we have gone from running a single open 18' boat to be able to use 4 boats different boats, including our 30' tender boat and layout boats. Each year we explore and find new places to hunt within Prince William Sound, you we experience amazing hunting and amazing scenery while here. Where else are you going to hunt in front of a tide water glacier with ice bergs floating by?
We also have upgraded our lodging to Robe Lake Lodge, go to our lodge page for pictures. There has never been a better time to make the trip to Alaska for waterfowl.
Email Us For References
(907) 322-DUCK
tim@akduckhunts.com
Guides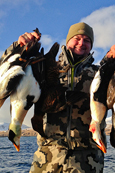 Capt. Tim Bouchard
Tim is the owner and head guide of Alaska Wildfowl Adventures. Tim started the company ten seasons ago and it is going strong! He is a licensed Coast Guard Captain, Waterfowl Guide, Assistant Big Game Guide, Fishing Guide, and is on the water year-round.  You will find him guiding fishing charters in the summer on Prince William Sound, chasing barn door halibut and salmon.  Then, starting Sept. 1 he is a full-time duck guide. Tim has the knowledge required to provide a great hunt every time out.  "There are no weather days".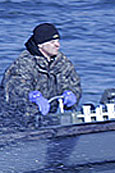 Capt. Brian Rhodes
Although Brian lives in southern New England, in a little state called Rhode Island, he has proven himself as an Alaskan duck hunter over the last seven seasons. Brian is the owner of "The Swampers," a company producing waterfowl hunting DVDs, and during Dec and Jan he runs his own waterfowl guiding business on the northeast coast for Eider, Scoter and Divers. Brian is also a fully licensed USCG Captain. You can expect his years of sea duck hunting on the east coast and his Alaska knowledge to lead you to successful and fun hunt.
For January East Coast Eiders, Scoter and Brant hunts check out Brian's Page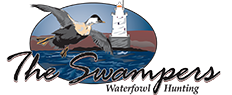 Pro-Staffers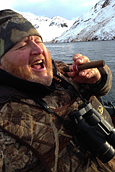 Greg Chapin
Chapin The Wrench. Greg has traveled with us from Seattle, to Ketchikan to Adak to be there just in case or to fix some part of a boat or a trailer or a shotgun. During his day job he is a professional diesel mechanic, but thankfully he is only a phone call away to help trouble shoot any engine problems. Greg is also a great duck hunter and comes down to Valdez and Adak annual to whack a few birds.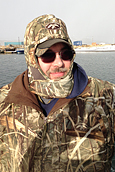 Shawn Reynolds
Shawn The Scout. Shawn is the guy always up for the next adventure and go explore a new location. What he does as a weekend trip in his jet boat most guys would consider a life time trip and more adventure than they can handle. Put a zodiac in a crate on a plane and he will go duck hunt anywhere. He has traveled with us to look for new areas to hunt multiple times. A long time Alaskan he has traveled to almost all the remote regions of the state.
Read More

Show will Air during the 2010 Season. Ducks Unlimited Television shot an episode with us on Valdez Sea Duck hunting. Watch the Outdoor Channel in 2010 for updates on when it will air.
---
In the early fall of 2009, North To Alaska joined usto film two episodes of our new Valdez Cast and Blast.
---
Author, David Rearick came and hunted with us during the 2009 season in Valdez. Look for his article in Wildfowl Mag this spring - Harlequins & Barrows
---
Both Tim & Brian were quoted in Field & Stream article "Why You Miss Ducks" Dec. 2009.
---

One of our hunter's wrote a very nice review for us in the January 2010 Issue.
---

Tim Bouchard has been featured and quoted in a few issues of DU Magazine in the last couple of years:
- On Top of the World
- The Cold Weather Retriever
- 20 Tips for Better Waterfowling
---
In the fall of 2005 we hosted "The Swampers" as they filmed a segment for their DVD "A Salty Season." It is now available in our online store, or from The Swampers website.
---

Game Hogg
We had Dave & Mike from the Game Hogg website come hunt with us during the 2009 season. Mike was nice enough to write us a review on their site - www.gamehogghuntclub.com
---
In 2006, Tim was honored to guide Larry Csonka in Minto Flats. You might be able to catch a re-run on the Versus Network.