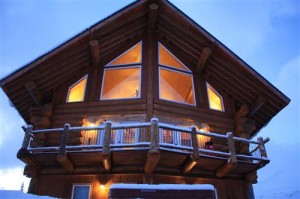 Robe Lake Lodge
We have always offered hard working guides and great hunting to our guest, now we are offering luxury lodging on top of it all. Alaska Wildfowl has partnered with our good friends at Robe Lake Lodge to include the very best accommodation in Valdez to our hunting packages.
Built in 2008, Robe Lake Lodge boasts the newest and most luxurious accommodations in Valdez. They are far above your standard Bed and Breakfast or Hotel. From the panoramic views from the full scribed log "Great Room" to a soothing soak in their hot tub or sweat in the sauna cabin, your stay is everything you have ever dreamed it would be. Enjoy hanging out or reading a book or magazine from our collection of local and historic Alaskan literature. They also have wireless internet and dish network for your enjoyment.
All of our clients will enjoy a private room in the lodge while in Valdez. You will enjoy a huge breakfast at the lodge each morning before heading out on the water. We supply you with a suburban to explore town after the hunts and to go out for dinner in one of Valdez restaurants.
Read More